Nabaroo
Biographical Information
Full Name
Nabaroo
Alias
Frog Prince
Other Name(s)
Monster in the Toilet
Age
Unknown
Birthplace
Europe
Home
Dark wel
Occupation(s)
Ex-prince
Morality
Evil
Characteristics
Gender
Male
Race
Human (Former)

Frog (current)

Eye Color
Black
Hair Color
Relationships
Relative(s)
Affiliation(s)
Seven Monsters
Allies
Seven Monsters
Minions
Enemies
Guardian Alliance
Powers and Abilities
Power(s)
swordmanship

frog curse Sin power

Weakness(es)
Clean
Equipment
Sword
Background Information
First Seen
Last Seen
Voice Actor(s)
[Source]
Nabaroo is a legendary figure in the story of Frog Prince. He is the prince who is traped in a frog curse. Member of the Seven Monsters. Holder of the sin of pride. His nickname is Monster in the Toilet.
Appearance
Edit
Nabaroo appears to be a frog in a suit. He is sometimes seem wearing a prince outfit with a robe. He can walk on two leg and is tiny in size. He is just slightly bigger than a normal frog. His choice of weapon is his sword.
Background
Edit
As legend indicated, he is a arrogant prince from an unknown kingdom. He was cursed and turn into a frog. Unlike in the fairytale, he did not get his true love kiss from the little girl in the story. Ever since, he seeks revenge on children who refuse to give him a kiss. He will appear in the toilet asking for a kiss.
After Pitch's downfall, with Queen Mary locked in the mirror, Whatzir a simpleton, Grinch and Jill turn good. Max took over Pitch's lair. He recruits his own team called Seven Monsters. He visits Nabaroo in the dark wel. He is too arrogant to join Max's team at first but in the end, he follows him, hope to get out of his curse.
Nabaroo made his first apperance in the meeting of the Guardian Alliance. Max introduce his team and wage war against them. Nabaroo went after Priya, Yemenja and Ariana.
He attack Priya during her festival. He mix his dirty water smell into her dust making children refuse to play with the colorful dust. He polluted Ariana's flower field and the flower witter. The whole lake that Yemenja reside as it went dark and she was forced to move.
After fullfilling his duty, Max extract his sin out. He went back to his dark wel but finally he break his curse with someones help. He is the only Seven Monster whose fate is known.
Powers and Abilities
Edit
As a prince from medieval ages, he is good in a sword fight and qualify to be a knight.
Swordmanship - His sword skill is on par with Yemenja when seen fighting on the lake. With his frog body, he is very nimble.
Pollution Manipulation - After becoming a frog, he gain the power to turn anything he torch ugly and unclean.
Frog Curse - His body is made out of snip, snail, puppy dog tail and everything not nice. He can tranfer himself from toilet bowl to another.
Power of Sin - He hold the power of pride. With it, he is able to command other lesser water creatures.
Relationships
Edit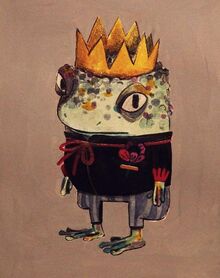 They see him as S Level target as all member of the Seven Monsters are.
Seven MonstersEdit
He is arrogant and refuse to team up with others.
As his boss, he do not obeys his command. He join only to see himself as more superior to lead the group.
Hi beauty
Muack.
Will you kiss me??!!  
Creation Concept
Edit
Counter Guardian Created by Jona. All Copyright goes to its original designer. Please do give me comment.
The photo come from [1]
Community content is available under
CC-BY-SA
unless otherwise noted.